Coming to the princely state of Rajasthan with your family or friends? Don't forget to book the top-rated hotels in Rajasthan known for featuring the interesting history of several rulers and offering original Rajasthani hospitality. Here are the top 10 best hotels in Rajasthan that are considered ideal places for pampering and luxury.
List of Top 10 Hotels in Rajasthan
Indulge in the magnificence and opulence of Rajasthan by perusing our compilation of the supreme 10 hotel hotels. Witness palatial paradises and undiscovered gems that are unparalleled in elegance and grandeur.
1. Hotel Chanoud Garh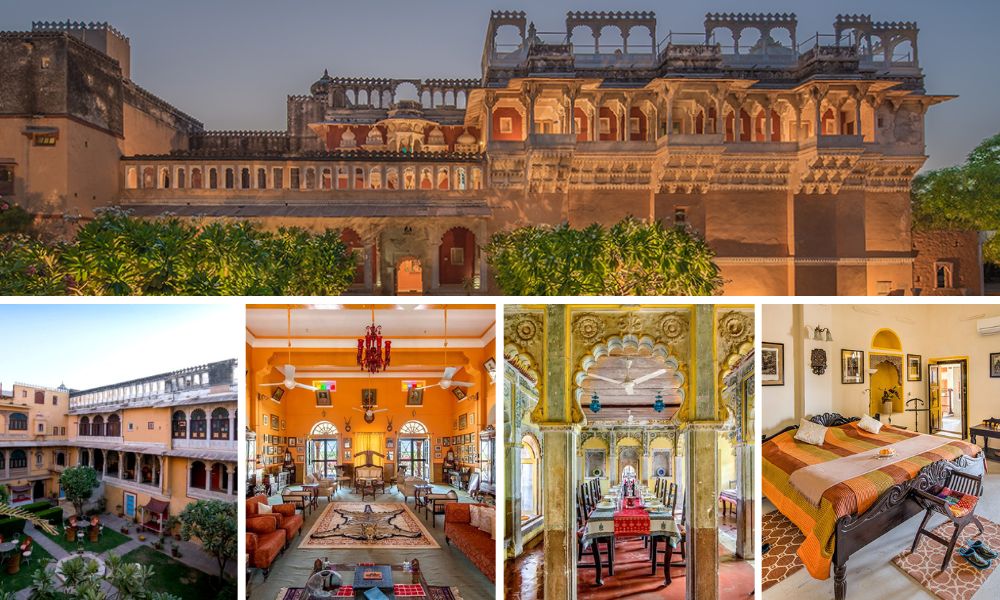 Providing the best of rural Rajasthan, this 300-year-old fort has a perfect blend of nature, history, culture, and Rajputana hospitality. As part of your palace stay, you can discover the Chanoud Garh village and its culture itself through the village walk and the heritage walk.
There are 10 luxury suites, personally organized by 13th-generation royal descendants. The complimentary heritage walk will take you inside the family museum and the durbar having a huge collection of animal skins, paintings, silver figurines, and more antiques. You can pamper your taste buds through a tasty menu served in Hawa Mahal, Badal Mahal, Mor Chowk, and Moti Mahal.
2. Taj Lake Palace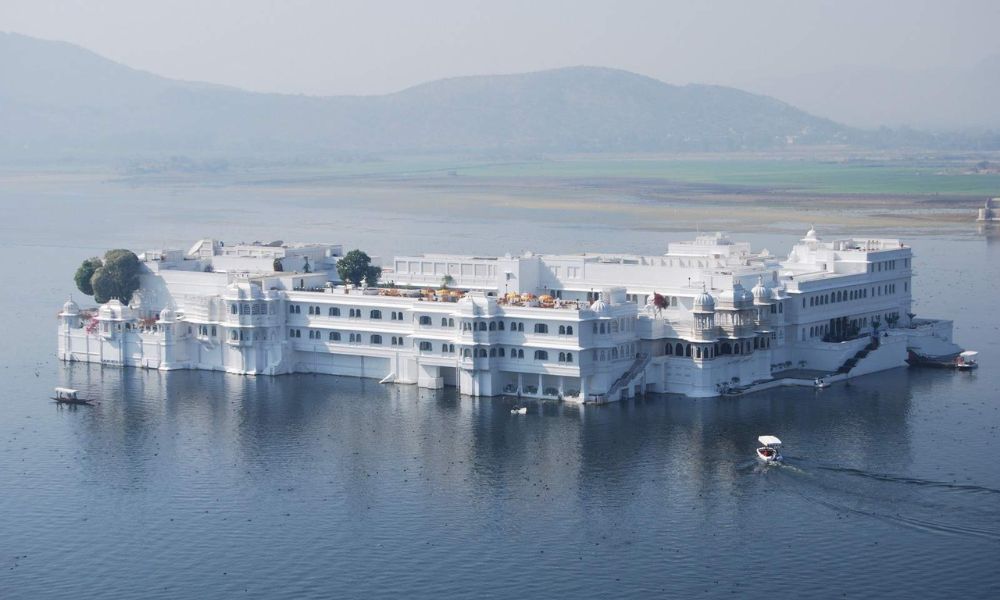 Floating like an eye-catching white ship on Lake Pichola, Taj Lake Palace is world's one of the most romantic hotels providing 360-degree sights of the surrounding Udaipur. This is a 273-year-old white marble palace comprising 18 grand suites and 65 luxurious rooms, all providing a breathtaking view of the closer Jag Mandir, City Palace, Machla Magra Hills, and Aravalli Hills.
3. Amanbagh
Enclosed by rural villages and temple ruins, this contemporary sanctuary in Aravalli Hills has Mughal-inspired structures soar from peaceful greenery. The suites and pavilions create a welcoming contrast to the stark. The different nooks of this property will provide a grand palatial feel, showcasing the royal history as an earlier hunting ground for Alwar Maharaja.
4. Clarks Amer
Placed amidst acres of lush greenery and close to Jaipur International Airport, Clarks Amer is a lavish property featuring the perfect amalgamation of Jaipur's colorful traditions and regal heritage. This 5-star hotel in Jaipur offers a lavish stay with sincere hospitality. The rooms are equipped with large windows and marble flooring.
5. RAAS Devigarh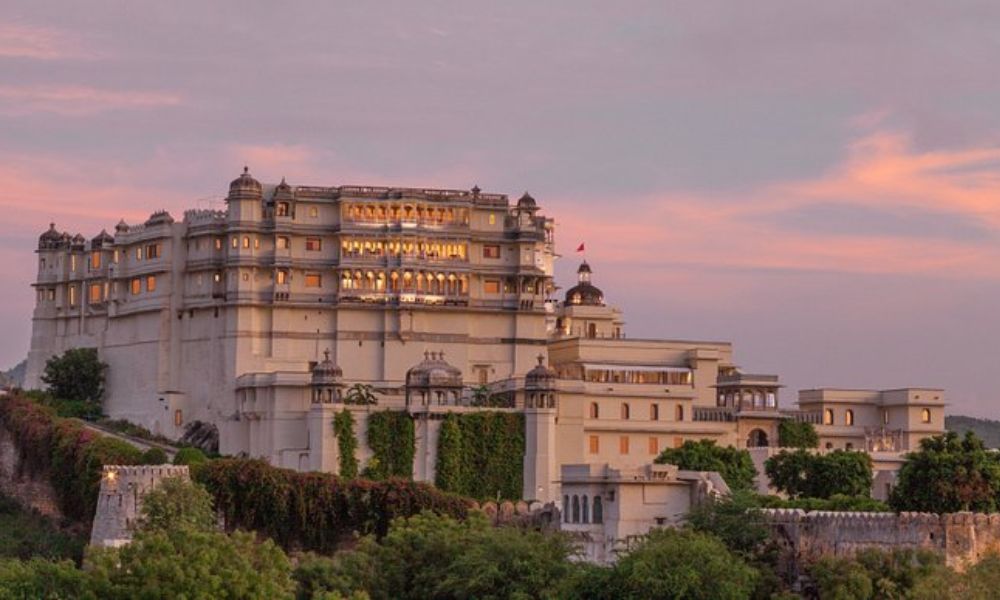 Located at a 45-minute drive from Udaipur in the Aravali Hills, RAAS Devigarh is an oasis providing awesome views of the village of Delwara and the scenic valley. Environmentally conscious and perfectly maintained, this 18th-century palace has luxurious rooms with minimalist interiors and tranquil landscaped gardens.
6. Suján The Serai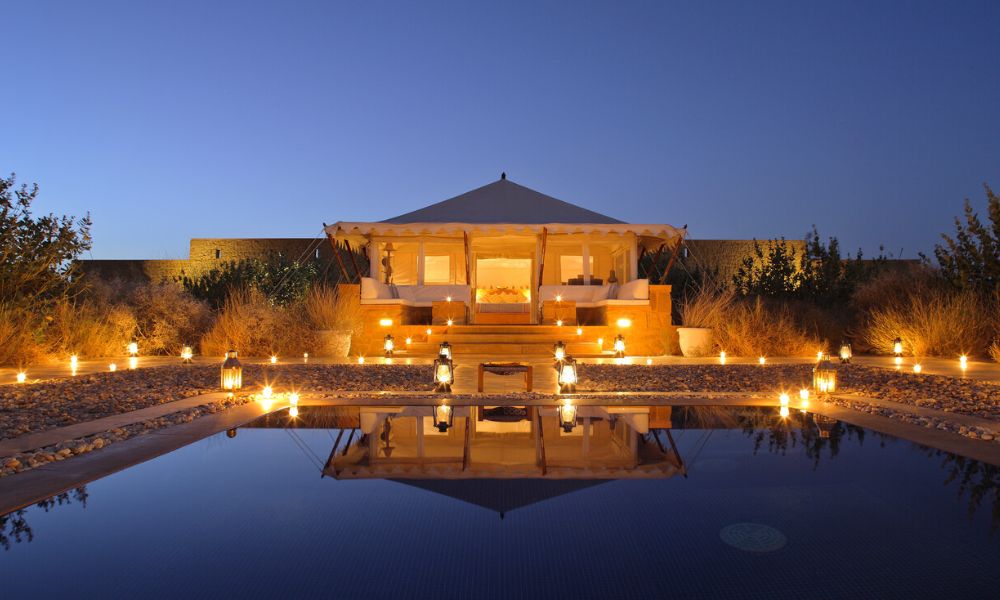 Spread over 100 acres of private land of indigenous desert scrub, SUJÁN The Serai is a perfect paradise of peace. It is listed as a UNESCO World Heritage Site with 6 luxury tented suites and 14 tented suites. The relaxing spa treatment at SUJÁN Spa will leave you completely rejuvenated.
7. The Leela Palace
If you wish to live like royalty in a massive palace, you must plan your next vacation stay at the Leela Palace backed by Aravalli Hills. This luxury hotel is known for relaxing accommodations, romantic boat rides, delectable dining, exciting cultural evenings, and world-class amenities. This is the best hotel in Rajasthan to experience true Indian luxury with signature hospitality.
8. Holiday Inn Jaipur City Centre
Located just a few minute's drive from the railway station, Jaipur Airport, and bus stand, Holiday Inn Jaipur City Centre provides first-class accommodation in contemporary rooms. Moreover, you'll have access to various famous tourist attractions like Amber Fort, Jal Mahal, Jantar Mantar, Hawa Mahal, and more.
9. Six Senses Fort Barwara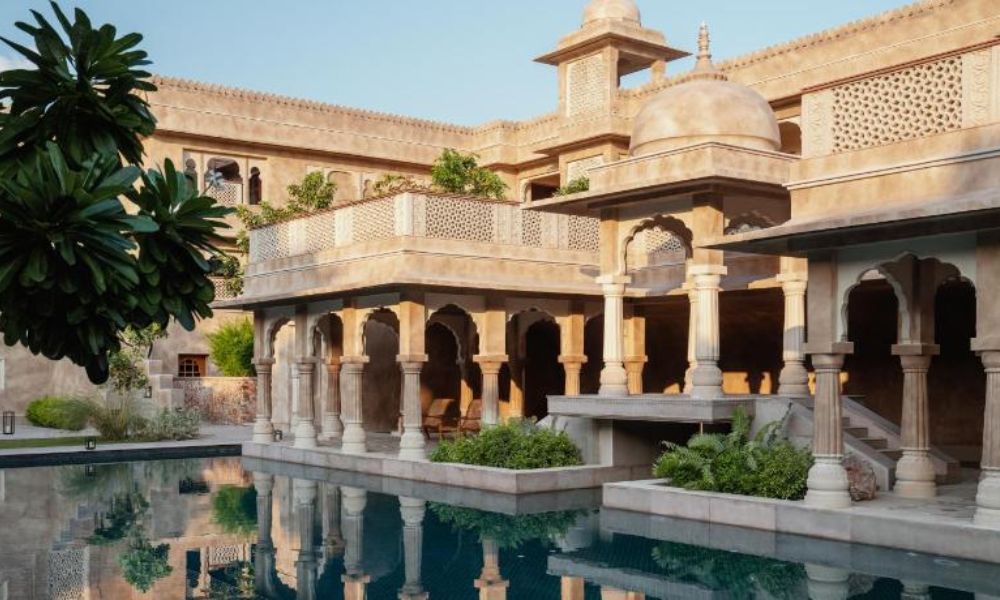 Originally owned by a Rajasthani Royal Family, this 14th-century royal palace is now converted into a heritage hotel in Rajasthan. Each suite is strikingly designed in a modern Rajasthani style to complement the historic background while providing traditional Rajasthani hospitality. You can enjoy the Barwara Heritage Village view from the private terrace of the suites.
10. Hotel Lakend
Located on the Fatehsagar lake shore, this luxury hotel in Udaipur provides the perfect vacation for the complete family. This 5-star deluxe hotel provides world-class accommodation, spa treatments, numerous dining options, exciting activities, a wedding destination, and so many facilities and amenities for every type of guest.
Related: Indulge in Grandeur: Unveiling the Top 10 Heritage Hotels in India