The spark of luxury and comfort in any trip makes it more relaxing and memorable. When it comes to luxurious accommodations, India offers an array of luxury hotels. Here, we have selected the top 10 luxury hotels in India that are worth visiting.
List of Top 10 Luxury Hotels in India
From royal palaces to contemporary marvels, discover the top 10 luxury hotels in India that redefine indulgence. Immerse yourself in unparalleled hospitality and experience a world of opulence
1. Hotel Chanoud Garh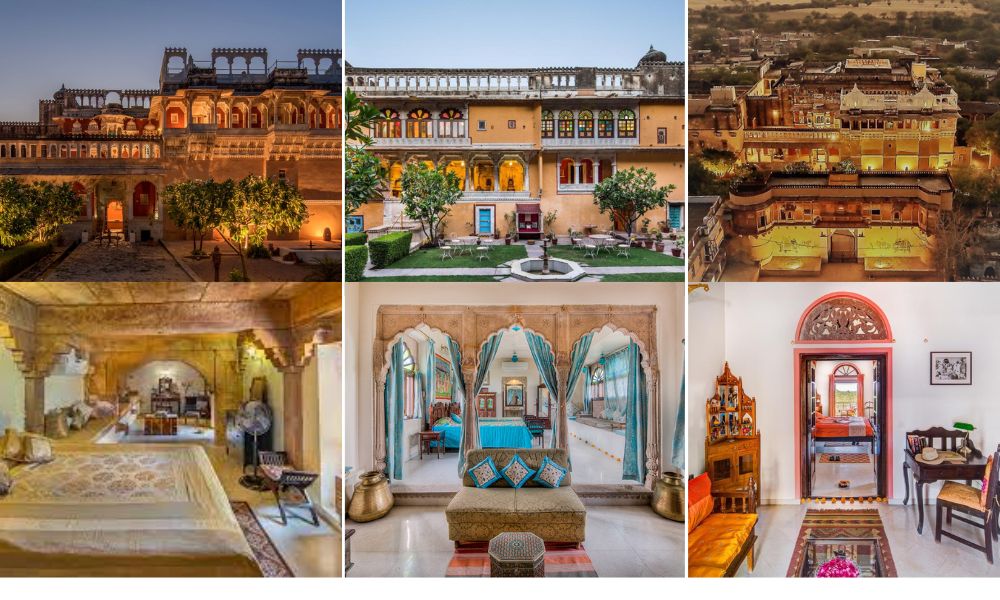 A luxury haven in the blue city of Rajasthan, Hotel Chanoud Garh is one of the best luxury hotels in Jodhpur, Rajasthan, and a magnificent palace steeped in history and provides remarkable Rajput hospitality. The expansive suites are fully furnished with modern furniture, and charming antiques, and beautifully decorated based on the architecture of the Victorian era. Staying in this hotel is more than just having comfortable accommodations and exploring royalty and hospitality.
Special features: Walk to Chanoud Village, heritage walk, Jeep Safari, a glimpse into the lives of Rabaris, and a variety of dining locations like Moti Mahal, Mor Chowk, Badal Mahal, and Hawa Mahal.
2. Taj Lake Palace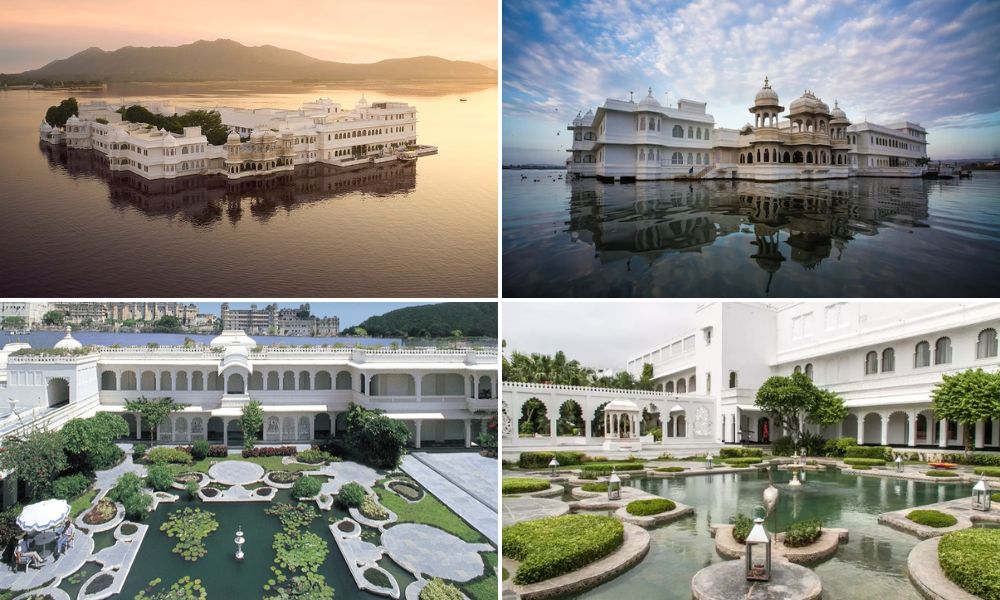 This is the 18th-century historical palace that floats in Lake Pichola and features eye-catching artwork, ornate glasswork, and decoration. This white marble marvel is an awesome example of royal grandeur with 18 grand suites and 65 luxurious rooms.
Special features: The Jiva Spa boat, city tour in a vintage car, and resident-only restaurants.
3. The Leela Palace Udaipur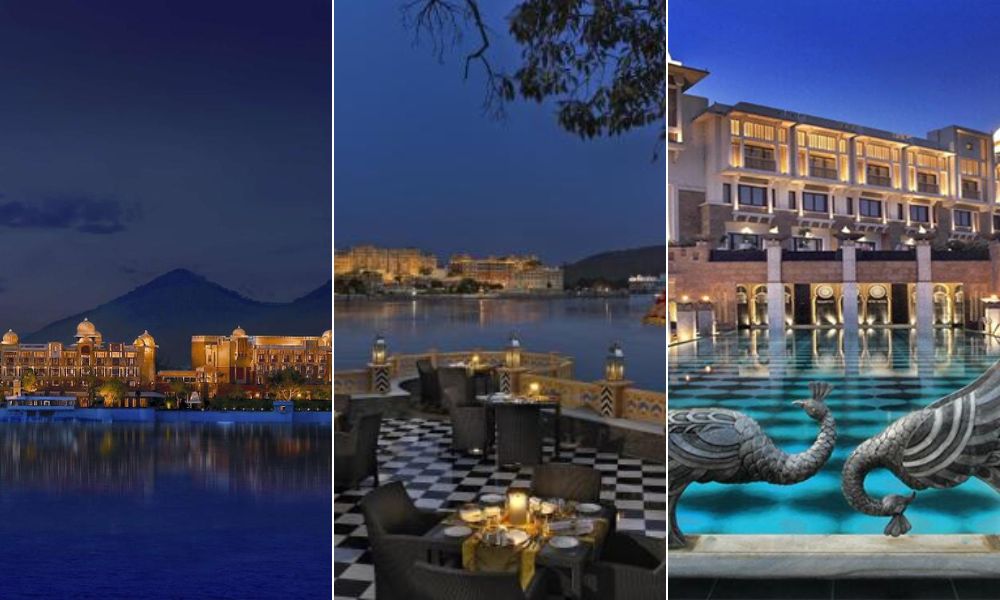 Located by Lake Pichola, this hotel has 80 luxurious rooms and serves delectable authentic Indian dishes. The décor represents the true essence of Rajasthan's cultural history.
Special features: Folk performances and music, fine-dining restaurant Sheesh Mahal, romantic boat cruise, and spa treatment.
4. The Oberoi Udaivilas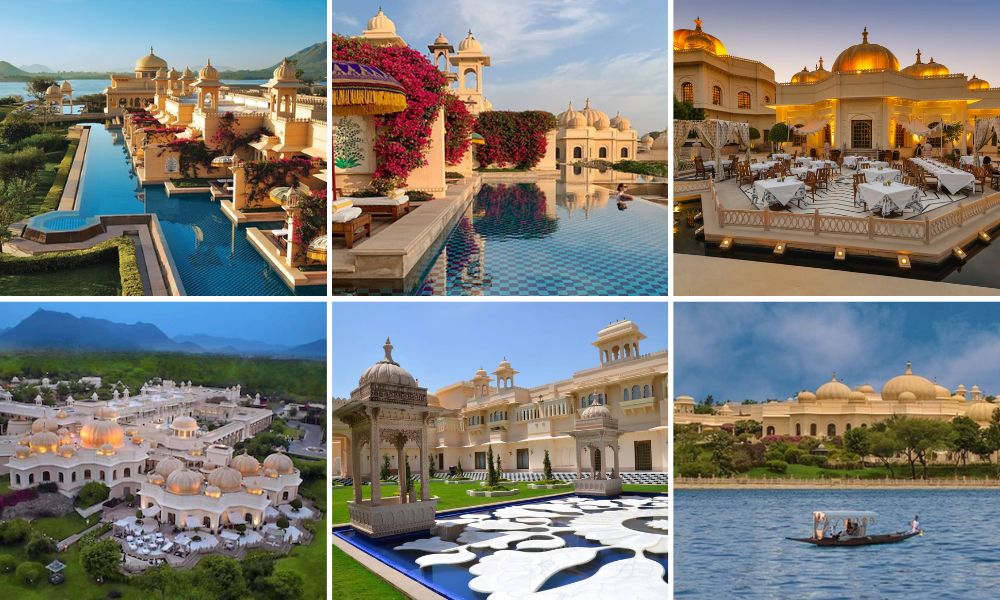 To have a top-notch experience, nothing is better than the Oberoi Udaivilas having rooms that reflect true elegance. Mughal design-inspired pool and intricately carved domes will definitely inspire you.
Special features: Stunning views of the Jag Mandir and City Palace, live music and traditional performances, yoga sessions, and spa treatment.
5. Radisson Blu Plaza Delhi Airport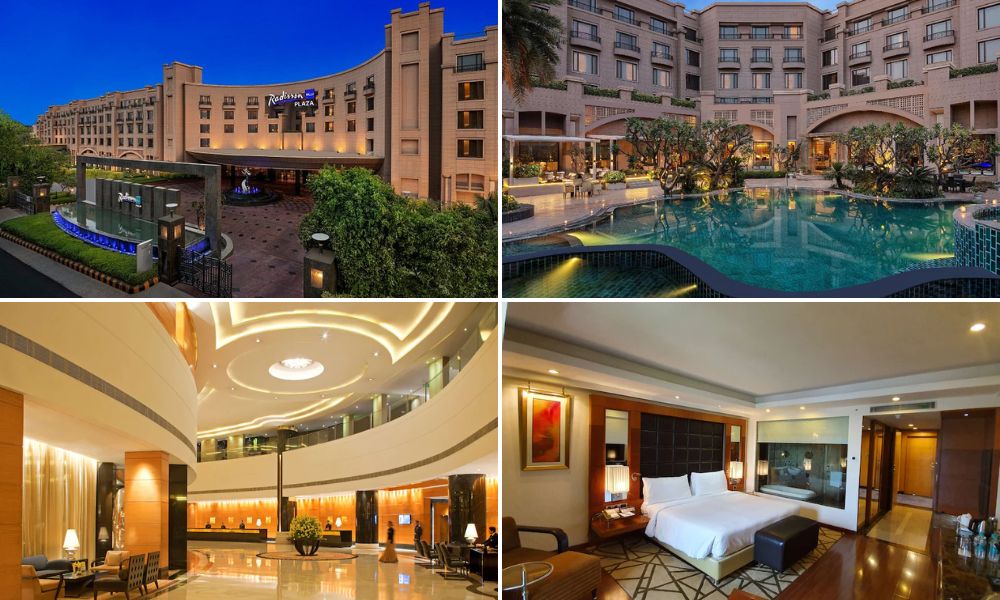 Located just 5 minutes from IGI Airport New Delhi and 10 minutes from Cyber City, this hotel provides convenient city access and upscale accommodation. The rooms and suites offer tranquil garden views and have contemporary amenities.
Special features: On-site restaurants and bars, spa, fitness center, yoga room, and outdoor pool.
6. Taj Resort & Convention Centre, Goa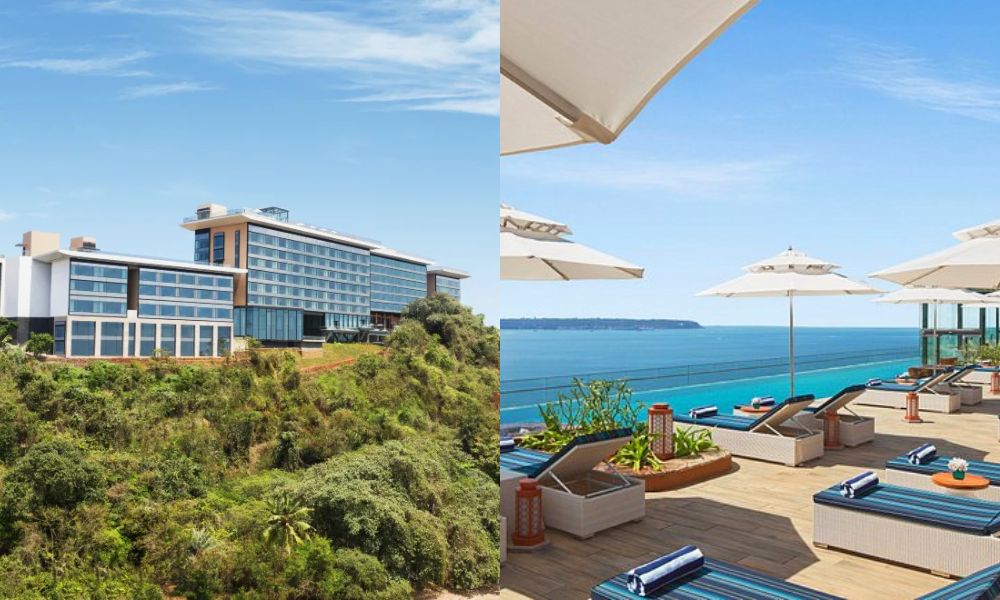 This luxurious vertical resort in Goa has 299 rooms with modern design and amenities. Located just 10 minutes from Panjim and Cidade de Goa, the hotel offers plenty of options to make your moments special and larger than your life.
Special features: Club rooms with club lounge, conferencing venue, private cinema, awesome view of the sea, and tropical flavor.
7. Taj Aravali Resort & Spa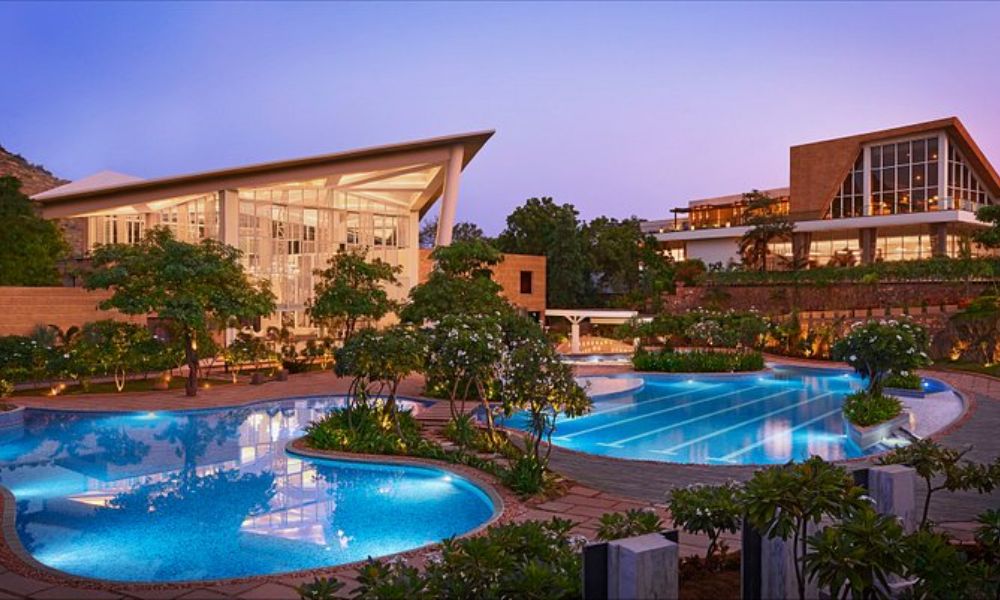 Featuring the contemporary design as a masterpiece of Rajasthani Architecture, elaborative chandeliers, and ornate marble flooring, this hotel is an ideal choice to discover the city of Udaipur.
Special features: Spa treatment, swimming pool, and stunning view of the Fateh Sagar Lake and Aravali ranges.
8. The Westin Gurgaon, New Delhi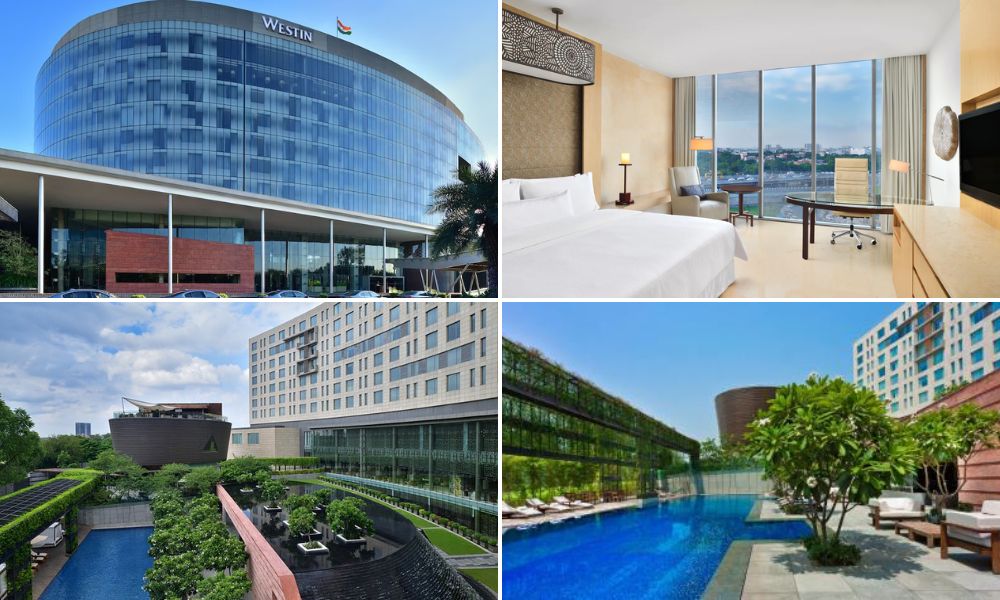 Strategically located in the heart of Gurgaon's business hub, this hotel is only 25 minutes away from IGI Airport New Delhi. The hotel is an ideal choice for leisure and business travelers to experience comfort and wellness. The rejuvenating spa treatment and therapies, architectural design, and impeccable hospitality are truly awe-inspiring.
Special features: Heavenly spa, inspiring events, and season tastes.
9. The Taj Mahal Palace Mumbai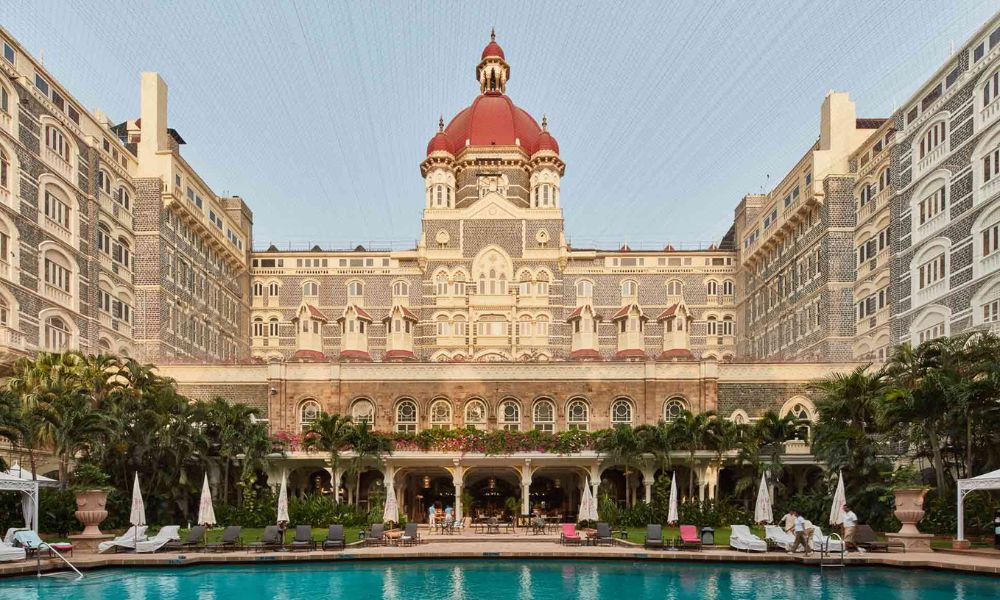 This is India's first luxurious hotel with rooms having lavish artistic interiors, modern amenities, and old-world charm. The signature experiences will make your stay more special.
Special features: 9 iconic fine-dining restaurants, amazing views of the Gateway of India and Arabian Sea, Taj Salon, and Jiva Spa.
10. JW Marriott Jaipur Resort and Spa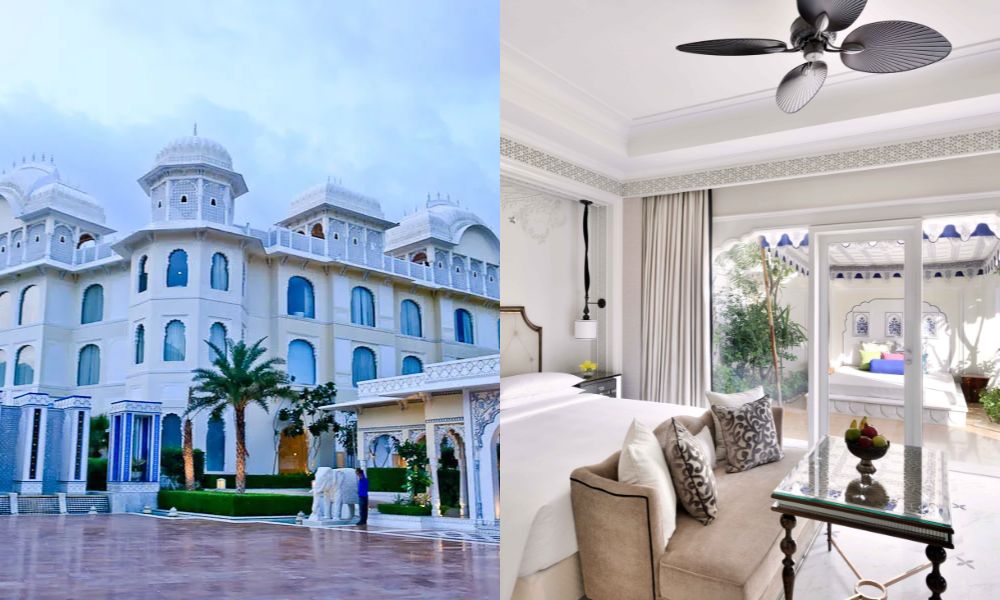 This resort has a perfect blend of contemporary elements and traditional architecture. You can dive into a stylish outdoor pool and get everything you need to unwind and relax.
Special features: Numerous popular tourist attractions like Amber Fort, relaxing spa sessions, and on-site restaurants.
Must Read: Indulging in Opulence: Top 10 Fort Hotels in India for a Luxurious Getaway
So, which luxury hotel will you book on your next holiday?